Anyone who owns a LED or Plasma flat screen TV knows that their TV speakers suck. Fortunately, Sonos comes to the rescue.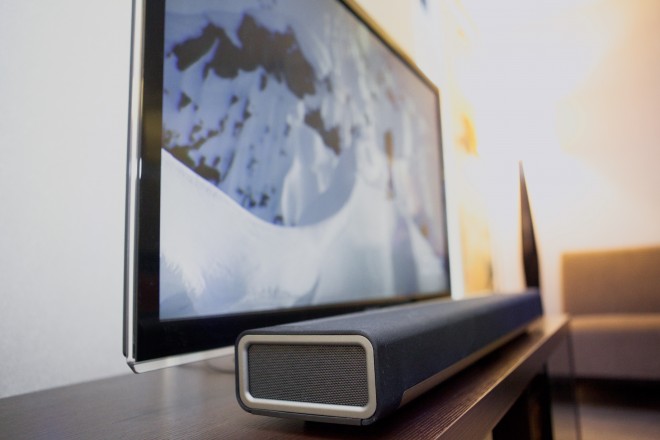 The Sonos Playbar brings awesomeness to your LED or Plasma TV in the form of a sound bar — a self-contained substitute for a home theater receiver and separate home theater speakers and subwoofer that might otherwise be used.
Stocked with an impressive nine drivers, the compact, low-profile Playbar employs rounded corners and silver accents to earn more style points than most sound bars, which tend to be black, boxy, and décor-damaging. At just 3.3 inches tall, it can sit in front of your TV without blocking the IR or the screen itself. Alternately, you can rotate it 90 degrees for mounting on a wall with the optional wall bracket. Internal sensors detect the orientation and adjust the audio output accordingly.
Like other Sonos pieces, the Playbar needs an internet connection from your router. If you already own a Sonos music system, then the Playbar will sync with your other Sonos speakers wirelessly. If you do not already have a Sonos music system and you don't have an ethernet connection at the TV then you can get your internet connection wirelessly  courtesy of the $50 Sonos Bridge. The Playbar also requires an audio input from your LED or Plasma TV. Once connected, the Playbar will play all sources plugged in to your Plasma or LED HDTV: cable/satellite boxes, Blu-Ray players, and video game consoles. If it's connected to your TV, Playbar will play it.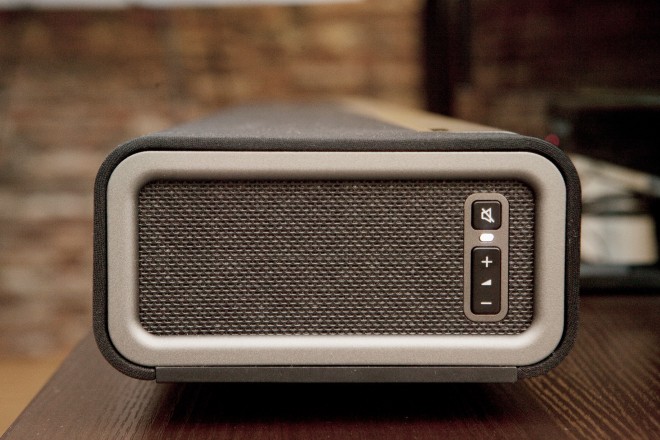 The Playbar can either function alone as a great sounding soundbar for your Plasma or LED TV or it can pair wirelessly with a couple of Sonos Play:3 speakers for rear-channel surround, and with a Sonos Sub for a complete 5.1 Channel surround sound system without having to do any additional wiring.
Whatever configuration you end up with, Sonos intends the Playbar to work with your existing TV remote, which is good because you're not saddled with yet another remote. On the other hand, not all TVs codes can be learned by the Sonos and you may have better luck  using a universal remote.
Once setup, the Sonos Playbar complements your Plasma or LED TV with richly textured HiFi sound. You can also use the Sonos app to control the volume, queue up music from your library or wirelessly stream music from an abundance of online resources, same as with other Sonos products.
Come over to Soundings to check out the NEW Sonos Playbar in action.
https://www.soundingshifi.com/wp-content/uploads/2022/05/Resized-1-300x80.jpg
0
0
shanker
https://www.soundingshifi.com/wp-content/uploads/2022/05/Resized-1-300x80.jpg
shanker
2013-03-04 15:31:41
2013-03-04 15:31:41
Sonos introduces new PLAYBAR wireless soundbar to rescue you from the sound of your HDTV.